Rating: (5/5)
Hooking Up, by Fabio Elli and "Pass the Pitons Pete" Zabrok, is an almost 700-page "big wall and aid climbing manual." But it is much, much more than that! An oft-pretentious word, like "ultimate" (used in the sub-title), is accurately descriptive of this volume. Not only do Elli/Zabrok assemble an astounding amount of big wall climbing history and lore, but this is seamlessly interwoven with countless full-color pictures, interviews, "articles," and how-to material from a broad spectrum of climbing personalities. Pete Zabrok (AKA: "Doctor Piton") contributes vast amounts of information from his multi-year column in Rock & Ice Magazine. A foreword by "The Bird," Jim Bridwell, leads the list of big-wall luminaries, and throughout the pages are many others. If you have even a passing interest in aid climbing, particularly on big walls (multi-day ascents), this book will increase your interest with each turn of the page. And if you are interested in learning how to aid climb, refine your skills, or try your first big wall, this book is must-have.
(You can click on each thumbnail to expand the image.)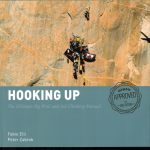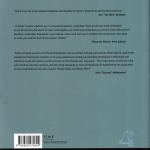 Let's start with the pictures!
Gorgeous, often two-page-wide photos grace these pages.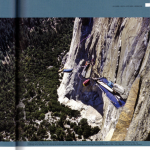 This photo spanned most of two pages, as you can see.
I literally cannot provide even a "representative sampling" of photos, and no scan can do justice to the beauty of the many photos throughout this book. I'll sum this point up by saying: This is a book you'll be proud to display on your coffee table, and it will be a conversation-starter among your non-climbing friends (if you have any, lol).

Perhaps you'll prefer to treat it as a reference manual.
"Destroy" it, dog-ear it, make notes in it, and otherwise treat a coffee-table masterpiece as the profoundly useful compilation of how-to information about the tiniest nuances of the sick-and-wrong game that is big-wall climbing.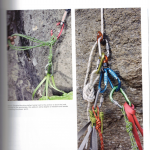 Almost every page has clear photos of what the text describes, as you can see. You'll learn everything from knots to anchor construction to multiple ways to haul your loads to placing an inverted cam-hook to, well, everything. As a how-to manual, this book takes "comprehensive" to a new level. I have never read anything that even approached this book's breadth and depth of climbing information.
You'll need to buy two of these. One for your coffee table, kept in pristine condition, and one for your vehicle, where you revel in its ever-deteriorating and well-used condition. It is impossible to describe how information-packed this volume is. In a back-cover quote, John Middendorf says, "… sets a new standard of sharing the complex art of using equipment and big wall climbing techniques…," and "Deucey" has it right! This quote is not mere "back-cover fluff" but is instead an accurate summation of the content.

Ah, the tales we tell.
The book leads by example, as it includes dozens and dozens of stories, interviews, and lore about famous and infamous climbs and climbers. I'd be remiss if I didn't offer the caveat to this review that I'm biased by being included (probably in the "infamous" category).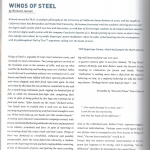 This article goes on for several pages. And the book includes so many similar, original, never-before-published perspectives and stories that it is pure gold for the big-wall aficionado needing a main-line fix of the tales we tell.
The book is of such high quality and production value that I wrote to Fabio and Pete, saying, "I am honestly honored and humbled to be a small part of the project." I hope that my small part was a worthy contribution, but it is only a tiny part of the whole. This book is cram-packed with the "ethos" and "ambiance" of big wall climbing, the nitty, the gritty, the soaring and the falling, the crashing and burning, the victories and defeats, the brilliant and the stupid, and, most of all, the learning how to do it better the next time.

How to get your copy
Well, in the USA, at present that's a bit of a problem. It's not on Amazon as of the time of this review. I found one place selling it out of Canada, but as I write this it's out of stock.
Here is the link to the Canadian distributor that on-again off-again seems to have it.
It's $77.95 Canadian on that site, which indicates something about what the book will probably retail for in the USA. For the production quality (paper, binding, photo-quality, etc.) of the book, it's an amazingly reasonable price.
Pete Zabrok says that you can order the book directly from him, and he'll ship to/from either the USA or Canada.
Facebook: Peter Zabrok
Text: 905-903-WINE

I've read dozens and dozens of books about aid and big wall climbing, and I've seen nothing close to this for beauty, production value, comprehensiveness, or detail. I predict that this will be the definitive book on walls and aid climbing in general for many, many years to come.